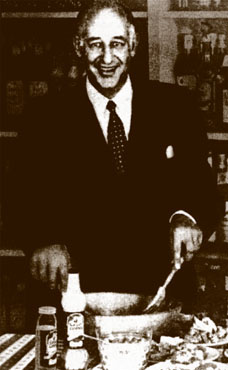 The modern pulse and the tradition of and evolving city convey at Caesar's, where both locals and visitors of all ages gather to share more than food and drink, where the world famous Caesar Salad was born.
Caesar's is many things: the ideal place for family dinner or to start an evening of nightlife exploration; a spot for that romantic escapade south of the border or that important business meeting. Caesar's is the de facto stop for anyone savoring the delicious culinary traditions of Tijuana, considering that we not only offer the best ingredients of Baja, but we also honor the most celebrated restaurants of yesteryear by including one of their specialty recipes in our menus: Mateotti's, Bocaccio's, Roma Madrid and Santini restaurants, established by some of our closest employees and partners.
Caesar's has been in the same spot since 1927. Much time has passed and many things have changed. Decades would pass before the term Baja Med was coined and applied to our various ingredients and style. Caesar's was here way before TV personalities visited us and considered Baja California as a unique destination for world class food and drink. We had Caesar's way before "La Monumental" bullfighter ring was opened so experts, celebrities and quite a few onlookers enjoyed the controversial style of El Cordobés. Caesar ́s was there ­a few blocks away­ when the first stone of the Jai Alai palace was put into place, a silent witness to the best matches from mexican, american and spanish pelotaris.
The legend lives on. Grupo Plascencia pays tribute to Caesar's history, it's founder and inventor of the famous salad: Cesare Cardini, chef Livio Santini and their employees, their regular customers and to all those who visit us from the across the border and beyond.
Arriving by foot, while enjoying a stroll in Avenida Revolución or after leaving your car keys with the valet parking, our guests' enter an intimate atmosphere that offers the best of Tijuana's rich culinary tradition.